April 2023
Housing Market Rebounds: Time to Make a Move? With home prices on the rise and supply dwindling, buyers and sellers must adapt their strategies to seize opportunities in the recovering market.
The housing market is ever-changing, and one of the key factors people are considering is home prices.
Although they have come down since their peak in June of last year, many are still waiting for a significant price drop before buying. However, holding off for such a drop may not be the best strategy, despite rumors of a price crash on the horizon.
A recent survey from Zonda shows 53% of millennials e still renting right now because they're waiting for home prices to come down. But here's the thing: the most recent data shows that home prices appear to have bottomed out and are now on the rise again. Selma Hepp, Chief Economist at CoreLogic, reports:
"U.S. home prices rose by 0.8% in February . . . indicating that prices in most markets have already bottomed out."
And the latest data from Black Knight shows the same shift.
The graph below compares home price trends in November to those in February: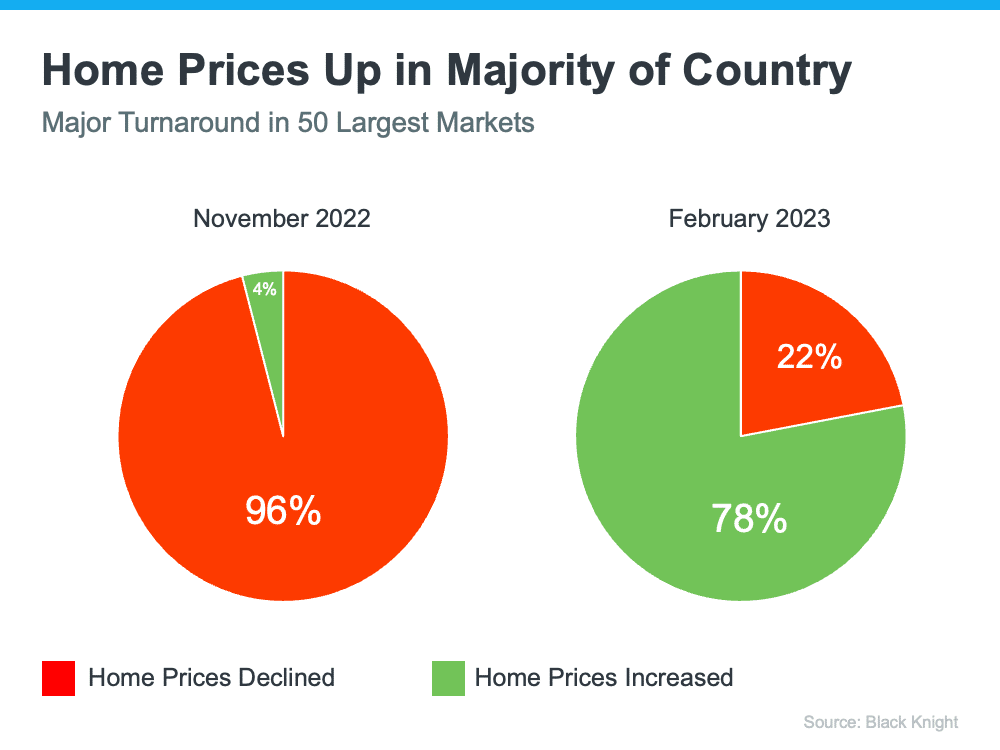 Those are national charts, but below is the average sales price per foot just here in the Valley: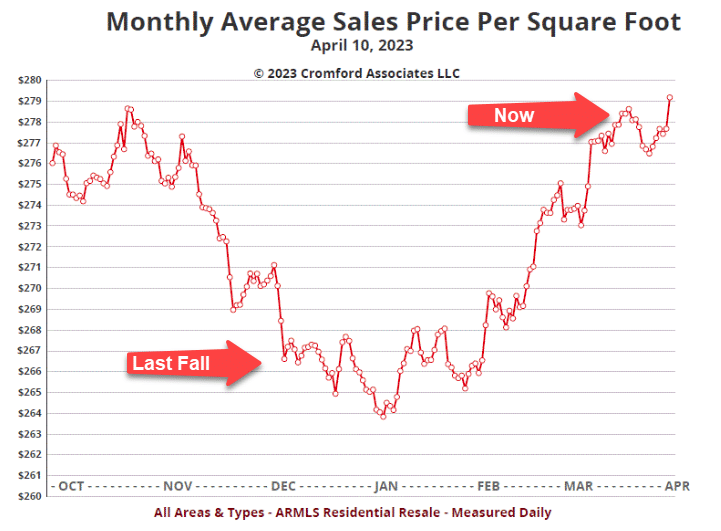 The above chart above is a graphical representation of why since last fall we encouraged sellers to wait and buyers to buy. From November through January, it was looking bleak, and buyers were excited. Since then, the panic had receded.
Getting Stronger Still
Despite the chaos of the past year, the real estate market remains resilient and strong, with a balance between supply and demand that continues to favor sellers. This rebound from the correction of the second half of last year is especially evident in Scottsdale North. As competition between buyers increases, concerns about potential weaknesses in demand are offset by the greater challenge of dwindling supply. Thus, it is crucial to remember that supply is as critical as demand in shaping the real estate landscape. Below is the Scottsdale North Supply chart: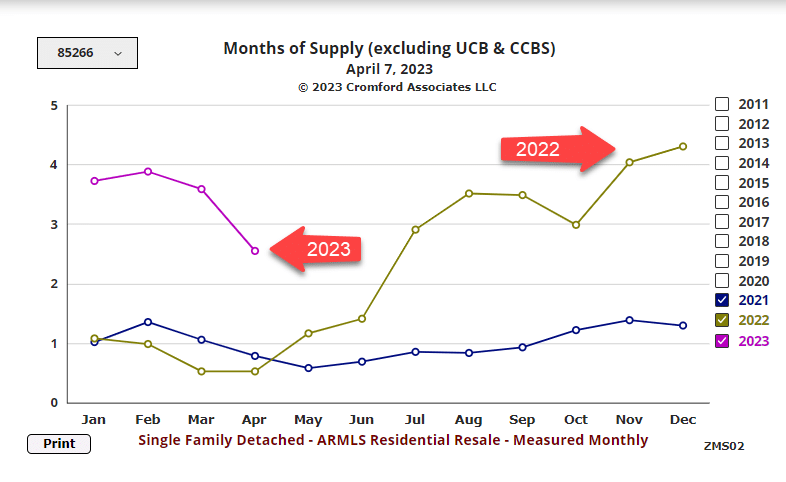 As you can see, supply is trending down back to where we were before this market correction. At the same time, demand is picking up.
Demand has been climbing slowly higher since January. As I write this on April 19, we have had an almost unheard-of percentage increase in listings under contract since last month. This evidence of increased demand is a strong signal for the market ahead.
Advice For Buyers
Buyers must adjust their thinking and anticipate rising competition as they chase a diminishing number of homes for sale. Many Scottsdale North buyers have been waiting for the perfect home or a steal in pricing, while second home buyers often wait until the last minute before buying. The mindset is often, "Let's see what else comes up." However, if you fall into this category, it may be time to reconsider and act now. Waiting to find a home that "checks all the boxes" could be an expensive undertaking.
Advice For Sellers
If you are not on the market and are not in a hurry to sell, wait. If you are on the market, think twice about lowering your price. We have been telling our sellers since last fall that if they weren't in a hurry, it would be best to wait for the spring selling season. We told them that it will likely be a late selling year. We are just now to that point in the season, and that is precisely what we are seeing.
In conclusion, the housing market is showing signs of recovery, and home prices are on the rise again. Buyers who are waiting for prices to fall may be badly disappointed, as it is not clear when or if prices will fall again. Sellers, on the other hand, are in a very good position. If we can help you figure out your next move, please let us know.
March 2023 Terravita Market Update
AI Takes on Real Estate: How a Computer Understands Scottsdale North
Artificial Intelligence, or AI, is a popular subject that many people are talking about. It's a way for computers to do things that usually need human brains, like solving problems, learning, and understanding how people talk. We are always searching for the newest technologies. I thought you might enjoy hearing about one example of how we are using AI to make the home selling experience better.
One cool example of AI is called ChatGPT. It's a special computer program that can create text that sounds like it was written by a person. It learns how to do this by studying a huge amount of text from different places, which helps it give good answers to the questions people ask.
To put this intelligence to the test, I fed it one of our ongoing real estate problems. Helping others to understand some of the ways selling lifestyle properties in Scottsdale North differs from "normal" real estate. This context is very important as I train new team members and new vendors to better understand what the home-selling experience is like for many of our Scottsdale North clients. It also can help our sellers to see that they are not alone in their struggles. Most importantly, it helps buyers and buyers' agents unfamiliar with our market understand how these different transactions can be from others. Seasonality, emotional attachment, accessibility, and mobility concerns, and even logistics can all differ significantly from a typical sale.
For this example, here is the prompt I put into the AI program:
"Write a first-person account of an 80-year-old person that knows they need more help than what is available to them in their single-family home, but they are afraid to leave the home that they have loved for many years with so many memories to go to a new place that will also represent a loss of independence. This person's current home is located in a lifestyle community that has been a blessing with lots of friends and activities, which makes it even harder to leave."
Here is what the program came up with:
It feels like only yesterday when I moved into this incredible lifestyle community. For years, it has been the perfect place to enjoy my golden years, surrounded by friends, activities, and a wealth of amenities. Now, at 80 years old, I find myself facing an unexpected challenge – needing more help than this wonderful community can provide.
My children and dear friends have voiced their concerns and suggested that it might be time for me to consider moving to a place that can offer the support and care I need. The idea of leaving this home, with its abundance of memories and the lifestyle community that has meant so much to me, is a heart-wrenching prospect. I've grown so attached to this place and the life I've built here that I cannot imagine living anywhere else.
Despite my fears, I understand that my needs have changed, and it's time to acknowledge the reality of my situation. It's not just about leaving my beloved home and the community that has nurtured my spirit; it's also about facing the loss of independence and the admission that I can no longer manage on my own.
As I come to terms with these feelings and begin the search for a new place to call home, I know it won't be an easy transition. My hope is to find somewhere that offers the care I require, while still allowing me to maintain some level of independence and dignity. I know I must be open to change and adapt to my new circumstances.
It's hard to let go of the life I've created in this lifestyle community, but I'm learning to accept that this next phase is a necessary part of my journey. The memories I've made here will always be a part of me, and I'll carry them in my heart as I forge ahead into this new chapter of my life. Although it won't be the same, perhaps, with time and a positive outlook, I'll find a renewed sense of purpose and belonging in my new home.
Isn't that incredible? The program seems to have a completely empathic understanding of the person and situation I described. While not perfect, AI-generated content like this serves as an excellent example of how AI can help people better understand and empathize with the experiences of others, even in areas as specific as real estate. Just one more arrow in our quiver to ensure we are doing all we can to make your experience better when you sell your home!
February 2023 Terravita Market Update

Shop Small While You Are Here!
The Saturday after Thanksgiving is National Small Business Saturday because that is the heart of one of the busiest shopping periods of the year. The purpose of this annual occasion is to raise awareness and encourage everyone to shop small and patronize businesses that are locally owned. But many of you are not here in November, and we want to remind you to shop small while you are here in Scottsdale North!
After all, according to statistics, for every $100 spent at a locally owned business, $43 stays in the local economy. While you are here in your second hometown, there are many reasons to keep your business in the local community.
10 Reasons to Buy Local in Scottsdale North
Information provided by Local First Arizona
There are many reasons to spend your money with Arizona's local businesses. These are the top reasons why it matters to buy local for products, services, shopping, dining, and more.
1. Keep money in the local economy
Studies have shown that up to four times more money stays in the local economy when those dollars are spent with local businesses than with national chains.
2. Keep money in your wallet
There is a myth out there that local businesses are more expensive than national chains and online mega retailers. This simply isn't true, as products and services from local businesses are oftentimes less expensive than the alternative.
3. Foster Community Pride in a Unique Sense of Place
Local businesses contribute to a unique sense of place that fosters community pride, and when people are proud of their hometown, they tend to care more, to volunteer more, to vote more, and give more.
4. Support the Community Through Local Businesses
The Institute for Local Self-Reliance has found that local businesses tend to give back to their community more through charitable giving than national chain stores. Local businesses regularly give a higher percentage of their revenue back to the community than big box stores. So, when you buy local, you're helping local businesses to have more resources to give back to your community.
5. Create Jobs in Your Community
When you support local businesses, you're creating demand for high quality and diverse jobs across the state. Local businesses in turn hire fellow local businesses in the community for products and services that they need to fulfill your orders and contracts. This "multiplier effect" creates and supports jobs throughout the state.
6. Advance Environmental Sustainability
Local businesses are rooted in the communities they serve, so they tend to be more conscious about their own impacts on the environment much like the local economy. Additionally, shopping with local businesses that source their products locally can lead to a smaller footprint on the environment.
7. Diversify the Economy
Communities with a large amount of diverse local businesses will offer more competition than communities with only a few large national chains. This kind of competition will keep prices low and force businesses to think in the best interest of consumers.
8. Support Healthy Communities
A study published in the Cambridge Journal of Regions, Economy and Society found that people who live in communities where small, locally owned businesses are the norm are healthier than those who live in places where large corporations predominate.
9. Enjoy Premier Customer Service
When you shop with local businesses, you're dealing with experienced staff and salespeople who are experts in their field who will help you find the right product or service that you need. Local businesses depend on customer loyalty and will do all that they can to retain you as a customer who will continue to frequent their business.
10. Create Prosperity for All
When local businesses are thriving, everyone wins. The economy is more diversified to prevent against economic downturns, there are more jobs to employ individuals across the state, and there is more opportunity for economic growth.
Scottsdale North Gift Cards
If you're looking for an easy way to do some good or want to know how you can help the community you love, send a Connecting Scottsdale North Gift Card.
To purchase a Connecting Scottsdale North Gift Card, visit connectingscottsdalenorth.com and click on "Buy a Gift Card."

January 2023 Terravita Market Update
The Market Cycle graphic above illustrates where I think we are in the Scottsdale North Real Estate Market. If I'm right, you'll probably look at this article with skepticism at first, but you'll soon start to have hope.
To illustrate why: On the graphic, November and December represent despair. The Cromford Market Index (CMI) is our best leading indicator that provides a short-term forecast for the balance of the resale homes market. Readers may remember that a CMI score of 100 is a balanced market. Above 100 favors sellers, and below 100 favors buyers. I am writing this in mid-January, and just 60 days ago, on Nov. 14, Cromford officially declared the Valley to be in a buyer's market. Most of the Valley had been favoring buyers for some time, but on that day, the overall index dropped below 90 for the first time in 10 years––and was trending lower. Despair for sellers seemed a fair representation.
Both the monthly median price and the average price per foot fell sharply in November. These price drops were partly because it was clear that the buyers had the upper hand. But based on the data, the drops were likely bigger than they should have been. People often overreact to their natural tendency to expect the worst, which the last time was a crash. But this wasn't a market crash; it was just a correction.
Pricing data is a lagging indicator, and prices stayed low in December, but leading indicators were starting to look better by mid-month. There were signs that inflation was slowing down, and interest rates started to go down.
Fast Forward to Dec. 29, 2022:
Michael Orr of the Cromford Report had this to say about the Cromford Market Index (CMI) chart:
"This table is quite shocking – the market balance is now swinging quickly towards sellers, yet this does not seem to be reflected in market commentary in the general media. This shows the advantage of measuring the housing market every day, rather than once a month. One month ago, the situation looked bleak for sellers."
Here is the CMI chart today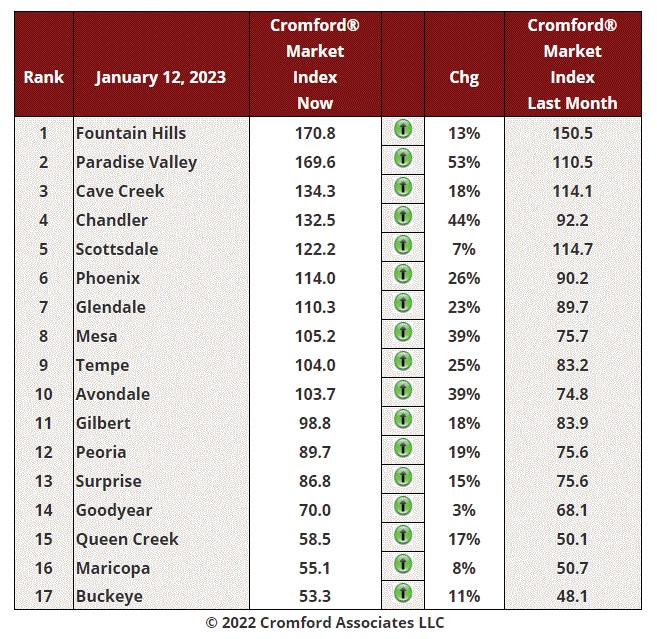 Not every city is in a seller's market, but they are all in the green and trending that way rapidly.
The reason for the shift in the Valley is not just that supply has been falling rapidly, we are now seeing stronger demand. This may easily go unnoticed by those not paying close attention, but the numbers do not lie. Unlike pricing, the CMI is a leading indicator. The Fed could screw us up by raising rates, but if this trend continues, we have seen the bottom of the market, and the correction is complete.
Scottsdale North
Scottsdale North never entered a buyer's market. The lowest CMI Scottsdale experienced during this period was 114. But sales volume has clearly been affected by the market shift. Both buyers and sellers have gotten discouraged, and all activity is way down.
Pricing was affected but not the way that most expected. When you compare year over year, you see that the Jan. 2023 average annual sales price is up $350,000 over 2022, and the median sales price is up $200,000. And with the market now shifting stronger to the seller's favor, further price erosion looks doubtful.

SUPER SEASON
January is off to a great start as the first two weeks saw some meaningful declines in inflation and interest rates hovering at four-month lows! And the timing for this shift is perfect because the Scottsdale North Super Selling Season begins very soon.
Every year the highest-selling season of the year starts after the final whistle of the Super Bowl. This year that comes as demand is increasing and supply is down. That is a textbook formula for appreciation. And this isn't just any Super Selling Season.
After years of reduced travel due to COVID, this year is seeing a resurgence in visitors. And moreover, this year Phoenix is hosting The Super Bowl, WM Phoenix Open, Barrett Jackson Auction, and the Arabian Horse Show––all right here in town!
Our team sensed this was coming, and since November, we have been preparing our sellers for a great Super Season this year. Look for a flurry of new listings from our team in the next 60 days. If you are a seller––or considering selling––you should really give us a call. There is much you should know. If you are a buyer, don't wait for price drops that aren't going to happen. You should definitely call to hear about the amazing homes we have coming very soon.
We are having a Scottsdale North Market Update with Tina Tamboer of the Cromford Report on March 9. If you are interested in attending, send us an email at update@scottggroup.com.